The Superfood Cleansing Gel
Active Ingredients
Wheatgrass – It is especially high in vitamins A, C and E, as well as iron, magnesium, calcium and amino acids. It also contains several important antioxidants Antioxidants are compounds that fight free radicals to prevent cell damage and reduce oxidative stress. The Egyptians saw Wheatgrass as sacred for it's health and beauty benefits back in ancient times.
Parsley Seed – is high in vitamin C. Vitamin C makes collagen, which gives skin its structure and strength. "Collagen helps to iron out fine lines and wrinkles,"
Lemon Tea Tree – is rich in Vitamin C and other anti oxidants, it also cleanses and nourishes the skin.
Petitgrain – Petitgrain oil is derived from the bitter orange tree. It will help reduce excess oil on your skin and fight off blemishes. In common with neroli, it has an affinity with the skin, helping with acne, pimples and blemishes, balancing over-active sebaceous glands, reducing spider veins, and acting as an all round tonic to the complexion.
Natural Scent
• Orange
• Parsley
• Lemon Tea Tree
• Petitgrain
An herbaceous cocktail of Parsley, Green Tea, Wheatgrass and Alfalfa immersed in a gentle foaming gel formula to deliver deep cleansing and a spectacular anti-oxidant boost to the skin. A critical step in your anti-ageing skincare routine, this Sulphate-free blend works to remove damaging pollutants and in turn, prevent free radical damage that can lead to premature aging. Essences of Orange, Lemon and Petitgrain perfectly balance the green notes of this blend.
Just one pump from the Superfood Cleansing Gel, then add water to your face so it foams to lather your skin with these beautiful natural ingredients.
These Superfood ingredients cleanse the skin free from dirt and makeup while also nourishing it. Your skin with feel super clean and ready for The Superfood Toning Mist.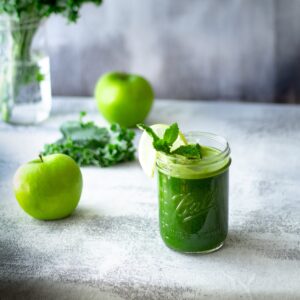 FULL INGREDIENT LIST
INGREDIENTS: PURIFIED WATER, LAURYL GLUCOSIDE (COCONUT & SUGAR DERIVED), GLYCERIN*, COCAMIDO PROPYL BETAINE (COCONUT DERIVED), TRITICUM AESTIVUM LEAF EXTRACT (WHEATGRASS), CAMELLIA SINENSIS LEAF EXTRACT (GREEN TEA), CHLOROPHYLL (ALFALFA GRASS), CITRUS SINENSIS (ORANGE) OIL, CARUM PETROSELINUM HERB EXTRACT (PARSLEY SEED), MYROXYLON PEREIRAE (PERU BALSAM) OIL, LEPTOSPERMUM PETERSONII (LEMON TEA TREE) OIL, CITRUS AURANTIUM VAR AMARA (PETITGRAIN) OIL, TOCOPHEROL (VITAMIN E), CITRIC ACID, HYDROXYMETHYLGLYCINATE (GLYCINE DERIVED) – * ORGANIC INGREDIENTS
HYDROXYMETHYLGLYCINATE – THIS PRESERVATIVE IS DERIVED FROM THE NATURALLY OCCURRING AMINO ACID, GLYCINE. IT IS A NATURAL ALTERNATIVE TO OTHER HARSHER SYNTHETIC PRESERVATIVES. THIS PRODUCT CONTAINS AN EXTREMELY LOW AND SAFE CONCENTRATION OF 0.5%.
Directions: Gently massage in circular motions onto damp skin, avoiding eye area. Rinse away with warm water or face cloth. Follow with The Superfood Toning Mist. Use morning and night.
Store in a cool dry place
Caution: For external use only. Avoid contact with eyes. If irritation occurs, discontinue use.