The Superfood Toning Mist
A quick and easy way to add an anti-oxidant boost to your everyday skin routine Our superfood-infused toning mist expertly blends rich berry extracts of Gojiberries, Bilberry, and Blueberries to fight free radical damage. A base of Aloe Vera provides rapid hydration, as the heady floral-meets-fruity aroma of Jasmine, Geranium, Lemon and Grapefruit envelop you after each application. Alcohol free.
Active Ingredients
Goji Berry – Contain high quantities of antioxidants, which help protect the skin's barrier and fight wrinkle-causing free radicals. Vitamins B1, B2 (riboflavin), B3, and B6 B vitamins help the skin retain moisture, diminishing fine lines, flakiness, and wrinkles. Vitamin C — Goji Berries also contain high amounts of Vitamin C. This powerful vitamin also promotes collagen production keeping our skin strong and elastic. Zinc — helps reduce inflammation and regulate's the skin's oil production. Shown to promote collagen and elastin production, both of which keep the skin elastic and youthful. Amino Acids — Goji Berries are packed with amino acids, which help keep skin hydrated and allow collagen, elastin, and other proteins to fully and effectively "connect" with one another, keeping skin soft and supple.
Bilberry – Bilberry has an abundant amount of zinc, fibre, vitamin K and vitamin E The regular use of bilberry will certainly give you the best benefits against the problem of acne. Vitamin A, C and vitamin B which enhance further protection against acne. Full of antioxidants and anti-bacterial properties and high level nutrients to fight free radicals, which cause the signs of aging.
Blueberry – Thanks to vitamins C and E, which naturally help remove dead surface cells and stimulate new ones, skin looks smoother and brighter. Contains a healthy dose of vitamin A, which stimulates the creation of more collagen and elastin. The more collagen and elastin you have, the tighter and more supple your complexion will be. Naturally rich in anti-inflammatory properties which strengthen new collagen formation and help prevent cell-damaging free radicals.
Natural Scent
• Geranium
• Grapefruit
• Jasmine
• Lemon
Giving you a hit of rich berry extracts of Bilberry, Goji and Blueberries from every spray of the beautiful Superfood Toning Mist all while hydrating the skin. While hints of Lemon and Grapefruit provide more nutrient rich food ingredients to wake the skin up, hydrate the skin and leave it nourished and fresh.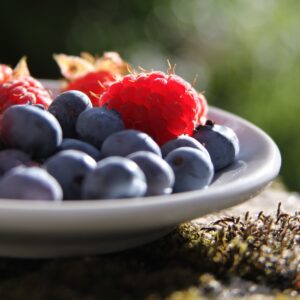 FULL INGREDIENT LIST
INGREDIENTS: ALOE BARBADENSIS (ALOE VERA) JUICE, GLYCERIN, LYCIUM CHINENSE FRUIT EXTRACT (GOJI BERRY), VACCINIUM ULIGINOSUM BERRY EXTRACT (BLUEBERRY), VACCINIUM MYRTILLUS (BILBERRY) FRUIT EXTRACT, SOLUBILIZER (COCONUT & ALMOND DERIVED), CITRUS SINENSIS (ORANGE) OIL, CITRUS LIMON (LEMON) PEEL OIL, PELARGONIUM GRAVEOLENS (GERANIUM BOURBON) OIL, CITRUS PARADISI (WHITE GRAPEFRUIT) PEEL OIL, JASMINUM (JASMINE) SAMBAC, TOCOPHEROL (VITAMIN E), LEUCONOSTOC (RADISH ROOT) FERMENT FILTRATE, POTASSIUM SORBATE (SALT DERIVED) – * ORGANIC INGREDIENTS

Directions: Spray a fine mist over entire face and neck after cleansing. Follow with The Superfood Moisturiser. Use daily.
Store in a cool dry place
Caution: For external use only. Avoid contact with eyes. If irritation occurs, discontinue use.